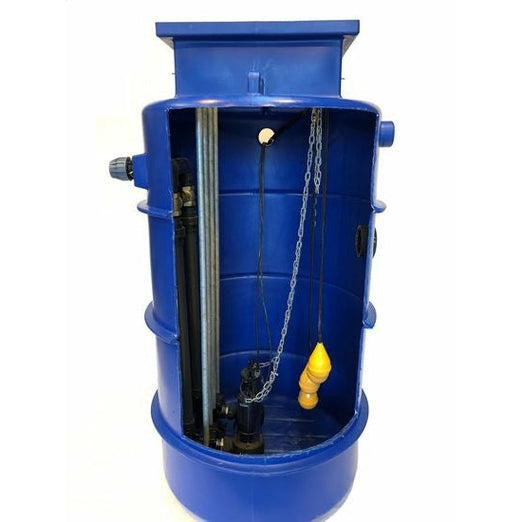 FREE
SHIPPING
100% MONEY
BACK GUARANTEE
2 YEAR
WARRANTY
Availability:
1000 In Stock
The PPS range of Pumping Stations are all manufactured in accordance with BS EN 12056-4:2000 Gravity drainage systems inside buildings and BS EN 752-6:1998 Drain and sewer systems outside buildings. Give us a call today for your Pumping Station requirements on 01332 854868. 
This Sewage Pumping Station is designed for 2no 4 Bed 
Dwellings, 
please find below what is included within your 
1700
 Litre Sewage Pumping Station.
1700 Litre Sewage Pumping Station includes:
1 x

 

1000mm Diameter x

 20

00mm Deep Pump Chamber
2 x Sewage Vortex Pumps with 50mm Solids Handling Capacity
2 x 2" Cast Iron Pump Pedestals c/w Lifting Chains
1 x 230v Dual Pump Control Panel
4 x Sewage Float Switches c/w 10m Cable
1 x

 

600mm x 600mm 5T Rated Galvanized

 

Manhole Cover
2 x 2" Non Return Valve
1 x 2" Twin Internal PVC Pipework Kit
1 x 110mm Rubber Seal for Incoming Pipework
1 x 63mm MDPE Adaptor for Outgoing Pipework
1 x 24 Months Warranty
This sewage pumping station
 is a complete kit for use in areas where gravity flow is not available. This system is used for the transfer of sewage or waste water, all specially designed for easy installation.

ALL PUMPING STATIONS SUPPLIED WITH A 2 YEAR WARRANTY